⚠WARNING: Drinking distilled spirits, beer, coolers wine and other alcoholic beverages may increase cancer risk, and, during pregnancy, can cause birth defects. For more information go to www.P65Warnings.ca.gov/alcohol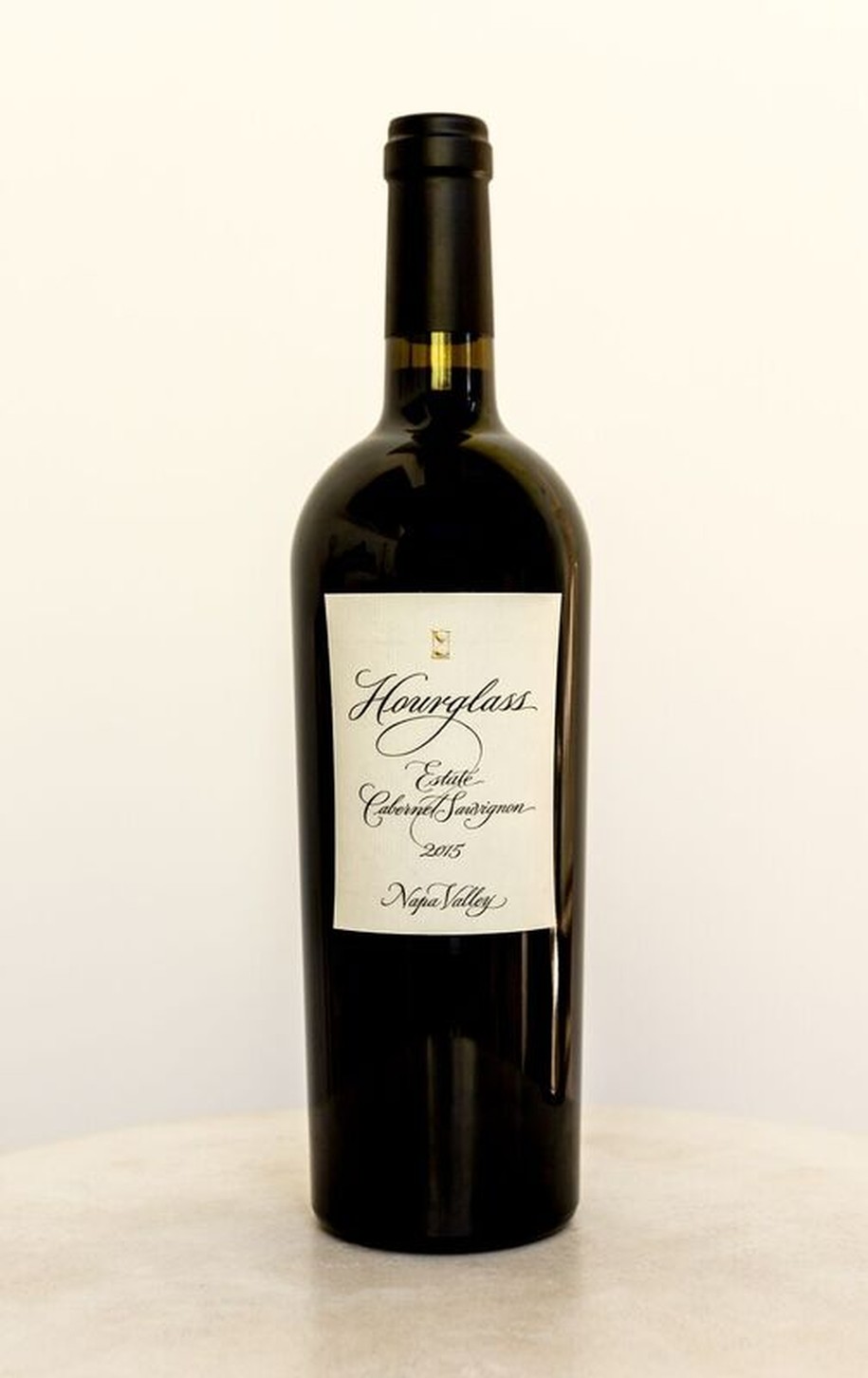 2015 Hourglass Estate Cabernet Sauvignon
Vintners
Jeff and Carolyn Smith
Partners
The Chilton and Clark Families
Vineyard Designation
Hourglass Estate
Soil Series
Hambright and Fractured Bedrock
Appellation
St. Helena, Napa Valley
Varietals
100% Cabernet Sauvignon
Barrel Program
22 months in new French Oak
We invite you to join our Mailing List to learn more about acquiring these limited-production wines.
2015 Vintage Overview
2015 represented the fourth year of California drought, replicating the conditions of the mid 1970's. Some of the mid '70's vintages remain legendary for their longevity and freshness due to the wine's classic structural core. This is likely a function of small berry sizing, as a result of drought conditions. The sequence of vintages from 2012 to 2015, are playing out much like those drought vintages of the mid 70's. Though different in character, these four vintages share a commonality in depth of concentration, freshness of fruit expression and a tightly woven inner core of structure.
Where the 2015 vintage separates itself from the three prior vintages is in a greater level of pure saturated fruit expression. These wines are dense in color and mouth coating in texture. They possess more lush fruit than the higher tannin 2013 vintage and greater depth than 2014. As winemaker Tony Biagi notes, "2015 is right behind 2013 in terms of quality. The previous three years of drought, coupled with a weak el Niño year with a dry Spring, arid Summer and early Fall, led to wines of greater opulence and saturation of fruit expression. The vintage reminds me of 2008, which also delivered opulent, forward wines."
Tasting Profile
The traditional Hourglass aromatic markers of camphor and mint are there, though less prominently than in bright, floral vintages like 2012 and 2014. Instead, the 2015 profile leans toward the darker expression of black fruits, cassis and blackberry. A thread of dark earth and toasted hazelnut intermingle with the fruit to deliver a complex weave of aromas. The 2015 Hourglass is more dense and brooding than the past several vintages as the black fruit theme extends from the initial palate impression to the finish. The earthy dark soil minerality of the iron rich Hambright bedrock soils persists from aromatics to the palate, lending an umami richness against the interlocking mixed fruit flavors. This minerality is a signature of the vineyard and is quite consistent vintage to vintage. The '15 is less overtly tannic than the previous several vintages, with greater silky texture. There has always been a yin/yang of energies to Hourglass; elegant vibrancy (natural acid) counterbalances richness and power. 2015 is no exception, but leans a little more toward the opulent side, as is consistent with the warmer vintage. Natural acidity creates a nice tension and lift, lending brightness and vitality to what otherwise would be a very saturated, rich wine. These counterweights act in concert to elicit greater complexity, extending the finish in a long afterthought. As tends to be true of riper vintages, the forwardness of flavors and texture reveal a wine that is very approachable while in its youth. As for cellaring potential, the common wisdom tends to favor earlier consumption in riper vintages. That said, there is incredible structure to the 2015 Hourglass that may defy common logic.
Other Vintages
2016 Hourglass Estate Cabernet Sauvignon
2014 Hourglass Estate Cabernet Sauvignon
2013 Hourglass Estate Cabernet Sauvignon
2012 Hourglass Estate Cabernet Sauvignon
2011 Hourglass Estate Cabernet Sauvignon
2010 Hourglass Estate Cabernet Sauvignon
2009 Hourglass Estate Cabernet Sauvignon
2008 Hourglass Estate Cabernet Sauvignon
2007 Hourglass Estate Cabernet Sauvignon
2006 Hourglass Estate Cabernet Sauvignon
2005 Hourglass Estate Cabernet Sauvignon
2004 Hourglass Estate Cabernet Sauvignon
2003 Hourglass Estate Cabernet Sauvignon
2002 Hourglass Estate Cabernet Sauvignon
2001 Hourglass Estate Cabernet Sauvignon
2000 Hourglass Estate Cabernet Sauvignon
1999 Hourglass Estate Cabernet Sauvignon
1998 Hourglass Estate Cabernet Sauvignon
1997 Hourglass Estate Cabernet Sauvignon