⚠WARNING: Drinking distilled spirits, beer, coolers wine and other alcoholic beverages may increase cancer risk, and, during pregnancy, can cause birth defects. For more information go to www.P65Warnings.ca.gov/alcohol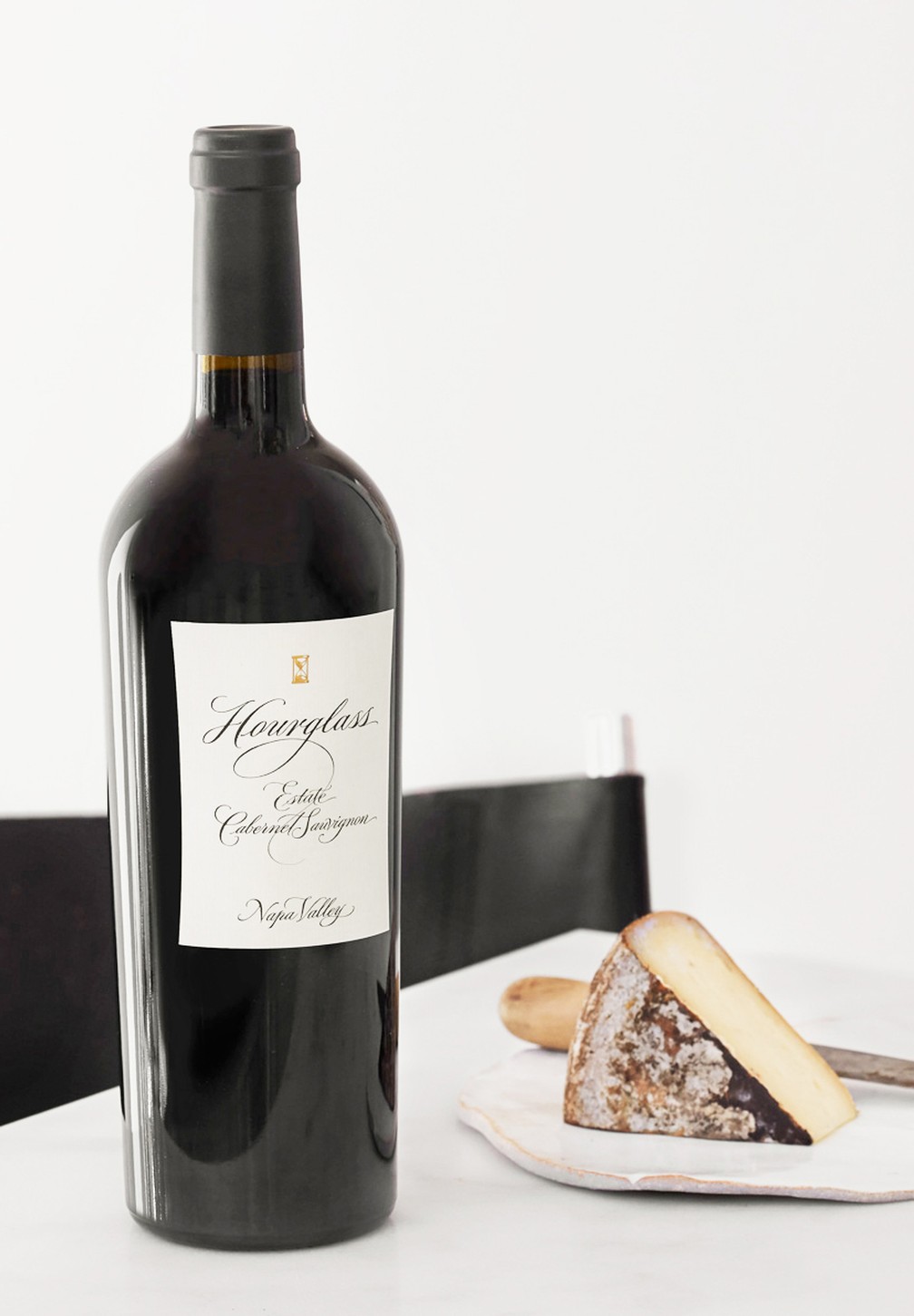 2014 Hourglass Estate Cabernet Sauvignon
Vintners
Jeff and Carolyn Smith
Partners
The Chilton and Clark Families
Vineyard Designation
Hourglass Estate
Soil Series
Hambright and Fractured Bedrock
Appellation
St. Helena, Napa Valley
We invite you to join our Mailing List to learn more about acquiring these limited-production wines.
Current Vintage Overview
The third year of California's recent drought cycle, 2014 was marked by a dry warm spring with early bud break and an even, warm summer. Spring conditions contributed to smaller berry sizes and crop loads, and ultimately a fantastic grape chemistry. Ideally balanced, the 2014 wines are reminiscent of those from 2001 - some of the most well preserved of their decade, much like those of the mid-1970s.
Tasting Profile
Aromatically akin to the perfumed 2012 vintage, our 2014 Hourglass is less brooding than the 2013, with more of its traditional dark red pomegranate and currant characteristics weaving together with savory cassis and black currant. An earthy minerality runs through the aromatics and across the palate, lending an umami richness to the interlocking flavors. This minerality is a signature of the iron-rich Hambright fractured bedrock soils in our Hourglass Estate Vineyard and quite consistent vintage to vintage.
The texture is broad and deep with a long arching finish. The structure is classically woven with layers of silky texture enveloping a well-knit core of polished tannin. Less overtly tannic than the 2013 vintage, its sleekness seamlessly glides across the palate. As always, there is a clear sense of the vineyard's yin/yang energies - elegant vibrancy to counter balance its richness and power. The wine's natural acidity creates a lovely tension and lift, lending brightness to what otherwise would be a very dense, rich wine. These counterweights act in concert to elicit great complexity extending the finish in a long afterthought.
Wonderful now, particularly with several hours of decanting to unlock its layered aromas and flavors, the wine will cellar beautifully for 20 or more years, gaining exotic nuances of cedar, tea-leaf and cigar box as it approaches year 2021.
This wine is another in a sequence of some of the finest vintages we have yet produced.
~Jeff Smith, February 2017
Other Vintages
2016 Hourglass Estate Cabernet Sauvignon
2015 Hourglass Estate Cabernet Sauvignon
2013 Hourglass Estate Cabernet Sauvignon
2012 Hourglass Estate Cabernet Sauvignon
2011 Hourglass Estate Cabernet Sauvignon
2010 Hourglass Estate Cabernet Sauvignon
2009 Hourglass Estate Cabernet Sauvignon
2008 Hourglass Estate Cabernet Sauvignon
2007 Hourglass Estate Cabernet Sauvignon
2006 Hourglass Estate Cabernet Sauvignon
2005 Hourglass Estate Cabernet Sauvignon
2004 Hourglass Estate Cabernet Sauvignon
2003 Hourglass Estate Cabernet Sauvignon
2002 Hourglass Estate Cabernet Sauvignon
2001 Hourglass Estate Cabernet Sauvignon
2000 Hourglass Estate Cabernet Sauvignon
1999 Hourglass Estate Cabernet Sauvignon
1998 Hourglass Estate Cabernet Sauvignon
1997 Hourglass Estate Cabernet Sauvignon