⚠WARNING: Drinking distilled spirits, beer, coolers wine and other alcoholic beverages may increase cancer risk, and, during pregnancy, can cause birth defects. For more information go to www.P65Warnings.ca.gov/alcohol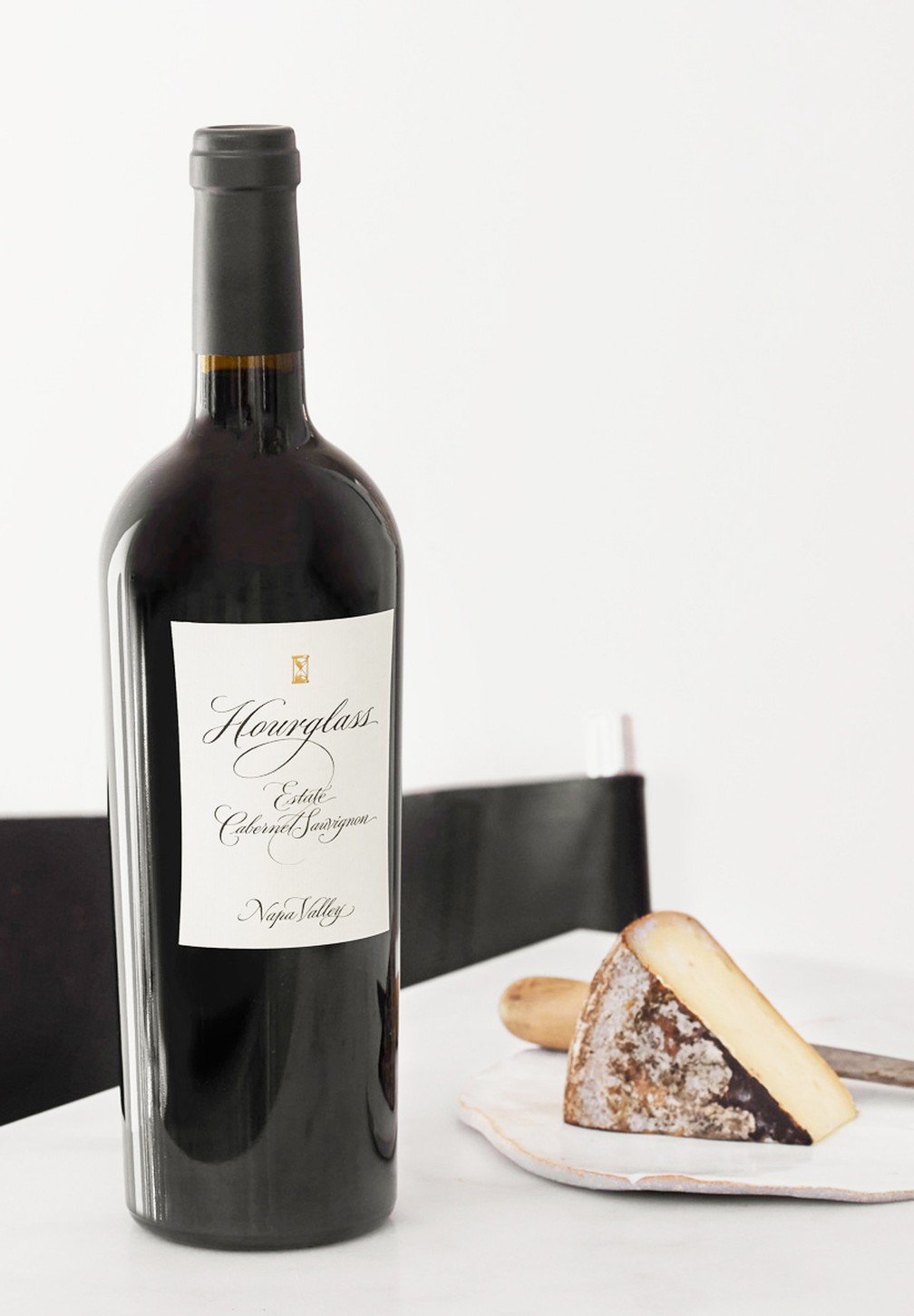 2005 Hourglass Estate Cabernet Sauvignon
Vintners
Jeff and Carolyn Smith
Partners
The Chilton and Clark Families
Vineyard Designation
Hourglass Estate
Soil Series
Hambright and Fractured Bedrock
Appellation
St. Helena, Napa Valley
Varietals
100% Cabernet Sauvignon
Barrel Program
Aged 22 months in a blend of new and seasoned French oak
We invite you to join our Mailing List to learn more about acquiring these limited-production wines.
Current Vintage Overview
The 2005 vintage stood out as cool by Napa standards, very pleasant days with mostly low 80-degree temperatures. The nights were generally cold with fog and strong marine influence in the mornings. In winemaking circles, there was a desire to see the typical warm Indian summer to cap off the cool vintage and finish up ripening. Alas, the heat spike, typical for September, never materialized. Additionally, rain kicked off in early October, initiating the wettest California rainy season in recorded history. A strong weather system in early October caught the attention of most vintners waiting for longer hang time and better phenolics. Most of the remaining Napa vineyards picked in a short window before the next weather system in mid October. Hourglass was not ready in that window so Bob Foley decided to take our chances and hang through the following rain cycle. As it turned out, the next cycle was a series of storms that lasted a full month, to November 17th when we finally picked. One might assume this would be a disaster. To the contrary, the fractured bedrock soils at Hourglass sheeted off the rain and the cold winter storms acted as a hormonal trigger to complete phenolic ripeness. Sugars achieved normal levels, around 25.5 brix, and complex phenols were developed with higher acids. In all, 2005 remains one of the best vintages we have ever had despite the heavy rains.
Tasting Profile
The 2005 Hourglass exhibits the hallmark characteristics of the vineyard in striking balance. Exotic aromatics of mint cookie, fennel, Asian Five Spice, and notes of sandalwood are beautifully lifted and perfumed. The earthiness from the iron rich Hambright soils acts as an anchor to the buoyancy of refreshing acidity and red and black current flavors. There is a slight grip of tannin that might be associated with a cooler vintage, but the tannins are sweet. Ten years of aging has beautifully integrated and softened them into a sleek and subtle texture. Much of the fruit fleshiness of the '05 in its youth has given way to reveal a well structured center core of integrated fruit flavors. The finish is subtle yet persistent—a beautifully complete and exotic wine start to finish.
Cellaring Potential
The 2005 remains a favorite vintage as it has aged with considerable grace and complexity. With a balanced tight structural core, plenty of vibrant fruit and many layers of exotic aromatics, the '05 should continue to age beautifully well over the next 10 to 15 years.
~ Jeff Smith, January 2016
Other Vintages
2015 Hourglass Estate Cabernet Sauvignon
2014 Hourglass Estate Cabernet Sauvignon
2013 Hourglass Estate Cabernet Sauvignon
2012 Hourglass Estate Cabernet Sauvignon
2011 Hourglass Estate Cabernet Sauvignon
2010 Hourglass Estate Cabernet Sauvignon
2009 Hourglass Estate Cabernet Sauvignon
2008 Hourglass Estate Cabernet Sauvignon
2007 Hourglass Estate Cabernet Sauvignon
2006 Hourglass Estate Cabernet Sauvignon
2004 Hourglass Estate Cabernet Sauvignon
2003 Hourglass Estate Cabernet Sauvignon
2002 Hourglass Estate Cabernet Sauvignon
2001 Hourglass Estate Cabernet Sauvignon
2000 Hourglass Estate Cabernet Sauvignon
1999 Hourglass Estate Cabernet Sauvignon
1998 Hourglass Estate Cabernet Sauvignon
1997 Hourglass Estate Cabernet Sauvignon