⚠WARNING: Drinking distilled spirits, beer, coolers wine and other alcoholic beverages may increase cancer risk, and, during pregnancy, can cause birth defects. For more information go to www.P65Warnings.ca.gov/alcohol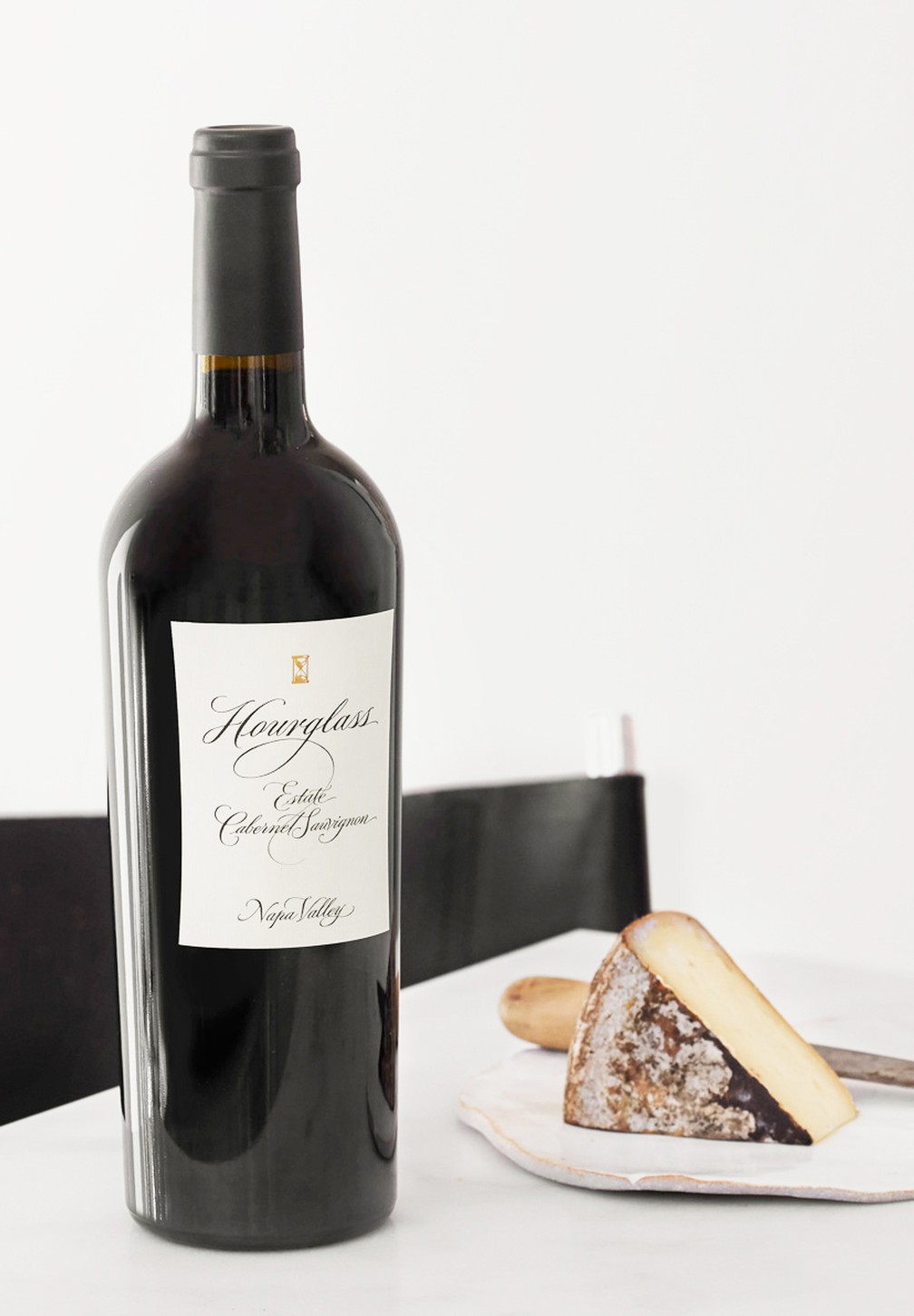 1997 Hourglass Estate Cabernet Sauvignon
Vintners
Jeff and Carolyn Smith
Partners
The Chilton and Clark Families
Vineyard Designation
Hourglass Estate
Soil Series
Hambright and Fractured Bedrock
Appellation
St. Helena, Napa Valley
Varietals
100% Cabernet Sauvignon
We invite you to join our Mailing List to learn more about acquiring these limited-production wines.
Tasting Profile
Our debut vintage is now 18 years old and counting! While showing some delicacy with age, it is still holding up beautifully. At cellar temperature—55 to 60 degrees—this wine can be a bit angular, but as it warms to the mid to high 60s it begins to sing, the edgy acidity rounding out to reveal a wine of lovely nuance. The body is more compact than when this was a younger, more voluptuous wine with sleek tannins, but it still delivers pure, tangy red and dark red fruit flavors accented by crème-de-cassis, dark chocolate, tar, and hints of pomegranate.
There is a round mid-palate sleekness in this Cabernet Sauvignon that is typically associated with a dose of Merlot in the blend; alas, Hourglass has always been 100% Cabernet dating back to our first vintage. The finish remains long with lingering mint and pomegranate notes. The '97 is punctuated with an elevated aroma of eucalyptus/mint, more so than other Hourglass vintages except 2009. These eucalyptus notes have become more integrated over time and are most evident upon opening and at colder cellar temperatures. Once the wine comes to temperature with decanting, this aspect of eucalyptus integrates nicely, evolving into a minty character, interweaving with black olive, saddle leather, and anise. In the last several years, this wine has been showing more complex cedar, cigar box, and saddle leather aromatics associated with its changing chemistry. The '97 has evolved beautiful over time and has been at a very consistent peak over the last five years.
Cellaring Potential
The consistency and stability of this wine over the past five years is promising relative to its longer aging potential, but we don't think it will add new dimensions over time. As such, we recommend drinking it now, or hold it for the next three to five years for a special occasion. Only time will tell, but it is a pleasure to drink in its current state.
~ Jeff Smith, January 2016
Other Vintages
2015 Hourglass Estate Cabernet Sauvignon
2014 Hourglass Estate Cabernet Sauvignon
2013 Hourglass Estate Cabernet Sauvignon
2012 Hourglass Estate Cabernet Sauvignon
2011 Hourglass Estate Cabernet Sauvignon
2010 Hourglass Estate Cabernet Sauvignon
2009 Hourglass Estate Cabernet Sauvignon
2008 Hourglass Estate Cabernet Sauvignon
2007 Hourglass Estate Cabernet Sauvignon
2006 Hourglass Estate Cabernet Sauvignon
2005 Hourglass Estate Cabernet Sauvignon
2004 Hourglass Estate Cabernet Sauvignon
2003 Hourglass Estate Cabernet Sauvignon
2002 Hourglass Estate Cabernet Sauvignon
2001 Hourglass Estate Cabernet Sauvignon
2000 Hourglass Estate Cabernet Sauvignon
1999 Hourglass Estate Cabernet Sauvignon
1998 Hourglass Estate Cabernet Sauvignon