⚠WARNING: Drinking distilled spirits, beer, coolers wine and other alcoholic beverages may increase cancer risk, and, during pregnancy, can cause birth defects. For more information go to www.P65Warnings.ca.gov/alcohol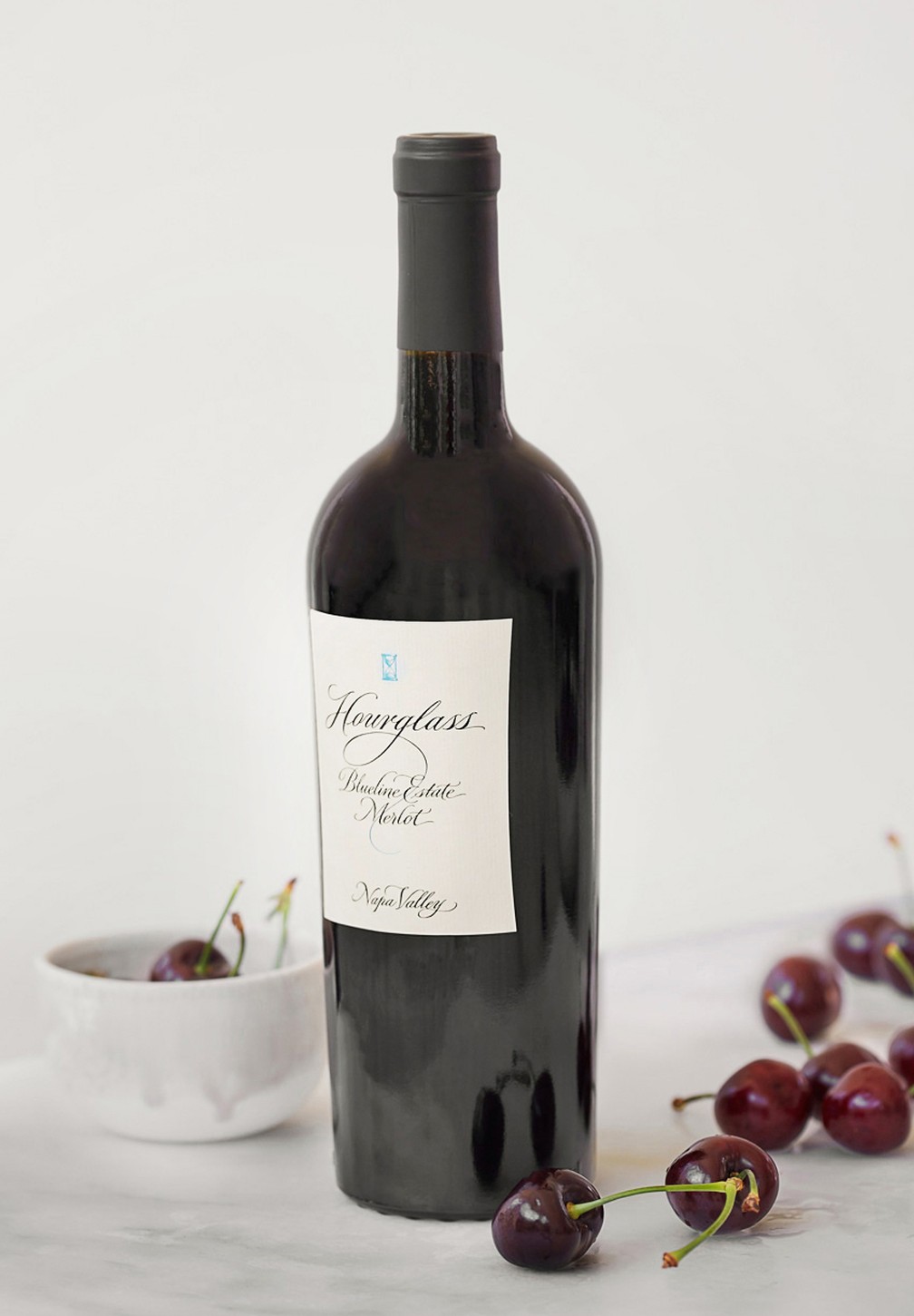 2009 Blueline Estate Merlot
Vintners
Jeff and Carolyn Smith
Partners
The Chilton and Clark Families
Vineyard Designation
Blueline Estate
Soil Series
Gravelly Cortina River Wash
Appellation
Calistoga, Napa Valley
Varietals
96% Merlot & 4% Cabernet Sauvignon
Barrel Program
Aged 18 months in a blend of new and seasoned French oak
We invite you to join our Mailing List to learn more about acquiring these limited-production wines.
Current Vintage Overview
The 2009 harvest will be remembered as one of relative ease. As there were no real heat spikes the Hourglass blocks came into maturity over a relative long season with harvest of the Hourglass estate starting October 30th. The even season produced showy deep fruit-forward characteristics combined with good varietal expression favoring the darker side of the fruit spectrum. The result of the extended hang time and moderate conditions, delivered physiological ripeness without excessive sugars yielding balanced grape chemistry. This is a strong vintage, in many ways similar to 2006, with long aging potential characterized by bright structural acidity and solid varietal expression.
Tasting Profile
The 2007 and 2008 Blueline Estate Merlots demonstrated to many what Merlot could become when it finds its voice. For those still in the camp of "I don't drink no stinking Merlot," it's time to listen! Merlot has come of age and you are sadly missing a beauty. For those already in our camp, this wine needs little introduction, but for those on the fence, the 2009 vintage is our opportunity to turn your head.
This concentrated wine sings its own song, a hauntingly melodic siren's song. It possesses a red fruit delicacy that makes it more subtle but no less beguiling than its Cabernet brethren. Its layered intensity is a product of mineral rich, nutrient poor soils, rendering a wine of focused concentration and bright, lifted aromatics. Silky across the palate, it finishes with a long lingering backward glance. Freshly grated nutmeg and toasted espresso accentuate aromas of flinty mineral and Mandarin orange zest, leading to an explosive, heady aromatic. The dark sour cherry and tangy dried cranberry flavors are the hallmark of our Hourglass Merlot. They enliven the palate and make this a remarkably savory wine and ideal food companion. Silky tannins, bright acidity and an energetic underscore of minerality provide the structure that frames the deep, focused flavors, skating on to a beautifully layered and lingering finish. May this wine introduce you to the pleasures of Merlot, or simply continue you on your enlightened path.
~ Jeff Smith, January 2016
Other Vintages
2015 Blueline Estate Merlot
2014 Blueline Estate Merlot
2013 Blueline Estate Merlot
2012 Blueline Estate Merlot
2011 Blueline Estate Merlot
2010 Blueline Estate Merlot
2008 Blueline Estate Merlot
2007 Blueline Estate Merlot
2006 Blueline Estate Merlot