⚠WARNING: Drinking distilled spirits, beer, coolers wine and other alcoholic beverages may increase cancer risk, and, during pregnancy, can cause birth defects. For more information go to www.P65Warnings.ca.gov/alcohol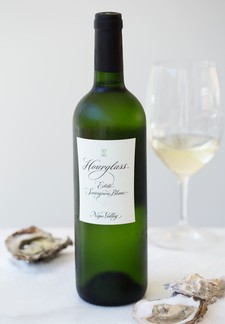 2014 Hourglass Estate Sauvignon Blanc
Vintners
Jeff & Carolyn Smith
Partners
The Chilton & Clark Families
Vineyard Designation
Hourglass Estate
Appellation
Calistoga, Napa Valley
Varietals
100% Sauvignon Blanc
Barrel Program
Stainless Steel, new and seasoned French cooperage
We invite you to join our Mailing List to learn more about acquiring these limited-production wines.
Current Vintage Overview
2014 represents the third year of California's current drought cycle, replicating conditions of the mid 1970's. Some of the mid '70's vintages remain legendary for their longevity and freshness due to the wines classic structural core. This is likely a function of small berry sizing, as a result of drought conditions. The sequence of vintages from 2012 to 2014 could play out much like those drought vintages of the 70's. Though different in character, these three vintages share a commonality in the freshness of fruit expression and a tightly woven inner core of structure. As the weave of structural core of a red wine is critical to age-ability, it stands to reason these vintages will hold up very well long into the future.
2014 was marked by a dry, warm spring with early bud break, and an even, warm summer. Harvest was on the early side, but not as early as 2015. Much of a vine's hormonal cues are driven by soil and climate conditions in the spring. Soil temperature, available nutrients, available water and timing all interact with the plant to trigger its growth cycle and crop loads. Moreover, berry sizing is a function of these conditions. As a great deal of structure, flavor and aromatics are contained in the berry skins, small berries generally lead to improved density, richness and brighter aromas. As a result, the 2014 spring conditions contributed to smaller berry sizes and crop loads and ultimately to fantastic grape chemistry. '14 was not as tannic a vintage as 2013, yet more so than 2012. The vintage as a whole fell right between '12 and '13 in terms of the balance of mouthfeel and aromatics. The '14s lean more toward the bright high toned aromatics of '12, yet with some, if not all, the density of '13. Ideally balanced, the vintage took us back in memory to 2001 as a current reference. To date, the '01 wines are some of the most well preserved of their decade and are tracking much like a mid 70's vintage. We can only hope 2014 follows in that vein. In a state like California there are few benefits to drought, yet the art of crafting extraordinary wines is one significant exception.
Tasting Notes
The 2015 Sauvignon Blanc is a blend of contrasting vineyards. The Larkmead Lane vineyard is on the same alluvial gravel beds just down the street from Blueline. As such, its wines elicit a vibrancy and stony minerality, with a crisp Granny Smith apple tang. By contrast, the 46 year old head trained vines of the Varozza vineyard in St. Helena yield intensely rich pure fruit. Between the vineyards and the three fermentations (stainless steel, seasoned oak and new oak), we make up to 7 distinctly different interpretations of Sauvignon Blanc then blend them to create a complex and layered wine that is both vibrant and rich at the same time.
Primary aromas of lemon and lime zest, orange blossom and Granny Smith apples are followed on the palate with flavors of limeade, hay, white peach, pineapple and vanilla bean. The use of 46 year old SB from the Varozza vineyard and 25% new French barrel ferments lends weight, while a noticeable wet stone minerality from the Larkmead fruit provides a wonderful counter balance and vibrant tension.
~Jeff Smith, January 2016
Other Vintages
2018 Hourglass Estate Sauvignon Blanc
2017 Hourglass Estate Sauvignon Blanc
2016 Hourglass Estate Sauvignon Blanc
2015 Hourglass Estate Sauvignon Blanc
2013 Hourglass Estate Sauvignon Blanc